Security Guarding

Introduction
The role of the Security Guard is an ever evolving role with a corresponding increase in complexity and responsibility. The risk of criminal attack, terrorism or general emergency situations has placed an increasing demand on the security sector. Personnel now need to be trained in a wide variety of disciplines to meet the current challenges. This role equally applies to the public and private sectors where the Security Guard operates, and the need to have basic training with the opportunity of further development has never been more important.

Correctly trained personnel can have the positive effect on reducing loss through criminal activity or hazardous risks. The role of the security guard is to protect people, property and premises.

There are two units for this qualification:
The Roles and Responsibilities of Security Guards
Conflict Management for Security Guards
UNIT 1
The aim is to develop the learner's knowledge so that they can assess their work environment and reduce the risk to people, property and premises, by providing effective security and deal with incidents in accordance with agreed procedures.
UNIT 2
The aim is to provide the basic understanding to deal effectively with workplace violence.
How is the qualification delivered and assessed?
To complete the certificate learners will need to complete 30 hours of training. Learners will be assessed by taking a multiple-choice exam.
To achieve The City & Guilds Level 2 Certificate for Security Guards and the National Certificate for Security Guards (Scotland) candidates will need to complete both unit one and unit two.
Awarded by: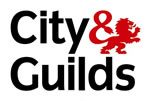 For more information, call 07973 538407 or email us.